About Me
"It is not enough to fight for the West; it is even more important to enjoy it. While you can. While it's still here. So get out there and hunt and fish and mess around with your friends, ramble out yonder and explore the forests, encounter the grizz, climb the mountains, bag the peaks, run the rivers, breathe deep of that sweet yet lucid air, sit quietly for a while and contemplate the precious stillness, that lovely, mysterious and awesome space. Enjoy yourselves, keep the brain in your head firmly attached to the body, the body active and alive, and I promise you this much; I promise you this one sweet victory over our enemies, over those deskbound men with their hearts in a safe deposit box and their eyes hypnotized by desk calculators. I promise you this: You will outlive the bastards."
- Edward Abbey
"Increasingly, the world around us looks as if we hated it."
- Alan Watts
"Most of the luxuries and many of the so-called comforts of life are not only not indispensable, but positive hindrances to the elevation of mankind."
- Henry David Thoreau
"I am pessimistic about the human race because it is too ingenious for its own good. Our approach to nature is to beat it into submission. We would stand a better chance of survival if we accommodated ourselves to this planet and viewed it appreciatively instead of skeptically and dictatorially."
- E.B. White
| | | |
| --- | --- | --- |
| | Stats | |

Born:
Pittsburgh, PA
Raised:
PA, MA
Broken Bones:
7 - some may call this plain clumsiness, I prefer to look on it as the unfortunate by-product of an active lifestyle
Education:
Masters Degrees in Electrical and Environmental Engineering
CD's:
Noisy Rock, Jazz
Married:
Happily
Children:
2 Cats (Marble & Troy)
Tattoos:
!!Please do not copy these designs!!
Mockingbirds (left shoulder)
Dragon (right ankle)
E-Mail:

[email protected]
Location
I live with my lovely wife in Phoenix, Arizona where I am employed as an environmental engineer. Phoenix is rapidly (or should it be rabidly) approaching the dubious status of being the 5th largest city in the US, with all the associated niceties that come with the hoard. Though the sprawl is growing so fast it seems to take longer each week to find the point where the pavement ends and the desert begins, there is still much that remains natural, remote and unexplored in the state.
Hiking Experience
I've been an avid day hiker most of my adult life. In 1994 I became interested in backpacking. After a three day hike to become familiar with the gear, I set off on a 2,150 mile hike from Maine to Georgia on the Appalachian trail. Since that time I've spent many enjoyable days/nights hiking in the forests of New England, the mountains of Oregon and the canyons & deserts of Arizona and Utah.
| | | |
| --- | --- | --- |
| | Other Interests | |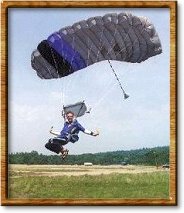 Skydiving: I made my first jump in 1984 with a college parachute club in Turners Falls MA. Since that time I've logged over 2,800 jumps and have held instructor ratings in static line, tandem and accelerated freefall. Although I have since given up instructing, I still hold a senior rigger rating from the FAA and continue to fun jump (skysurf and freefly) as time allows.
Canyoneering: Ever since I bought Michael Kelsey's "Canyon Hiking Guide to the Colorado Plateau" I've been fascinated with exploring slot canyons. Canyon hiking combines aspects of hiking, climbing, rappelling, and swimming with spectacular scenery. Exploring these areas is challenging and involves some risk, so it's prudent to become as knowledgeable as you can about vertical techniques, anchors and gear. Two good sources of information about canyoneering are the American Canyoneering Association and the Canyoneering E-Group.
Caving: Another interesting activity I'm involved in requires going underground to crawl, squirm and climb through the dirt and mud. Caving offers a totally new dimension to the beauty that the natural world has to offer, and involves it's own set of risks and responsibilities. For information about caving in your area check out the National Speleological Society. My wife and I belong to the Central Arizona Grotto of the NSS which meets the first Friday of every month. Come to a meeting if you would like to get more information about caving in the area.
Music: I have been playing the electric bass for many years and had even considered it as a career at one point. After high school I went to music school for four semesters before coming to the realization that a music career was not the easiest way to make a living. Though I no longer seem to have the time to play in a band, I love to play music and never go more than a few days without picking up my bass. In addition I have recently begun learning to play a Chapman Stick, though much practicing will be required before I attain any proficiency on this interesting instrument.
Fitness: Modern technology and conveniences have made getting up off your butt a thing of the past. Long distance hiking and backpacking, however, are activities that demand a certain level of physical fitness in order to be enjoyed. Popular medical advice specifies 20 minutes of exercise 3 days per week at a level which you are able to carry on a conversation. I make no claims or recommendations, however for myself, I believe this is inadequate (look at where this advice is coming from, how many fit & trim health care professionals have you seen?). Personally, I make sure I get daily, vigorous exercise and maintain a reasonable diet, but hey ....... I'm not your mom ......... do what you want.
Computers: Though I hate to admit it, it is painfully obvious that I am somewhat of a computer geek. Dinking away at this web site is one way to keep in touch with the outdoors until the next time I'm able to go out exploring.
Software used to create this web site = FrontPage 2002 with some hand coded JavaScript
Graphics = Paint Shop Pro 8 w/BladePro Plugin